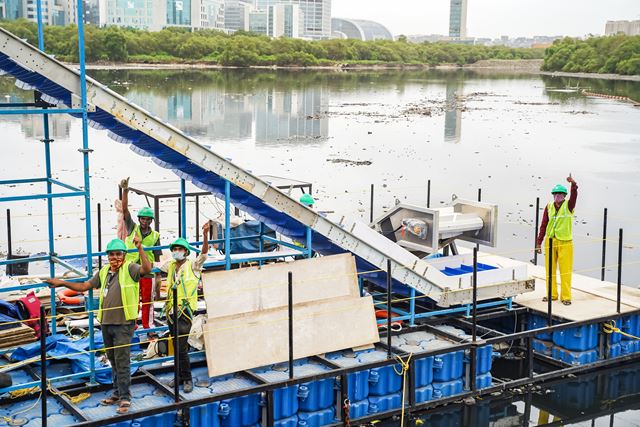 Finding new ways to address the environmental challenges our communities face across the world is reliant on our ability to foster innovation which drives systemic change. To support such innovation and progress towards circularity, in 2021 Huhtamaki partnered with RiverRecycle, theFinnish cleantech start-up, and VTT Technical Research Centre to develop a prototype waste collector which was built and tested in Finland, to tackle floating river waste. Today, RiverRecycle, has reached a significant milestone by collecting over a million kg of waste from four rivers around the world.
Huhtamaki was closely involved in the project in Mumbai resulting in the waste collector being put into operation on the Mithi river. In addition to building, and setting up the river-cleaner, Huhtamaki also facilitated local hands-on workshops on effective waste management and recycling with a view to driving systemic change.
According to the UN Environment Program (UNEP), 19–23 million tonnes of plastic waste ends up in seas, rivers and other water bodies every year.

Thomasine Kamerling, Executive Vice President of Sustainability and Communications at Huhtamaki, congratulates RiverRecycle on their achievement:
"We believe in protecting food, people and the planet. We firmly believe that cooperation across the value chain with key stakeholders is needed to address global sustainability challenges, such as marine plastics in this case. I would like to congratulate RiverRecycle on their remarkable achievement. To drive systemic change, we not only need to support the development and commercialization of innovation aimed at preventing waste from entering our oceans, but we also need to focus on how we give waste value and incentivize local communities to improve their waste management practices."
RiverRecycle collaborates with local businesses and communities to generate value from waste without burdening the municipality's limited budgets. Their system is customized to meet the specific needs of the communities to their benefit.
Anssi Mikola, CEO of RiverRecycle, stated: "RiverRecycle isn't just about collecting waste; it's about reshaping the way we see and handle plastic waste in our environment. We are demonstrating that our approach, which emphasizes collaboration and sustainability, thrives. We are proving that environmental responsibility and sustainable business can go hand in hand. Huhtamaki has been one of our first partner, and we would not have reached this milestone without their support. "
Huhtamaki's ambition is to have 100% of its products designed to be recyclable, reusable or compostable by 2030. In India, our main manufacturing focus lies on producing high-quality flexible packaging that provides protection for products such as food, pharmaceuticals, personal care, and home care items. We have already introduced multiple recyclable mono-material structures as part of our blueloop™ brand. Additionally, under India's G20 presidency, Huhtamaki is one of the 39 companies globally to join the Resource Efficiency and Circular Economy Industry Coalition (RECEIC), launched by the central government in India.