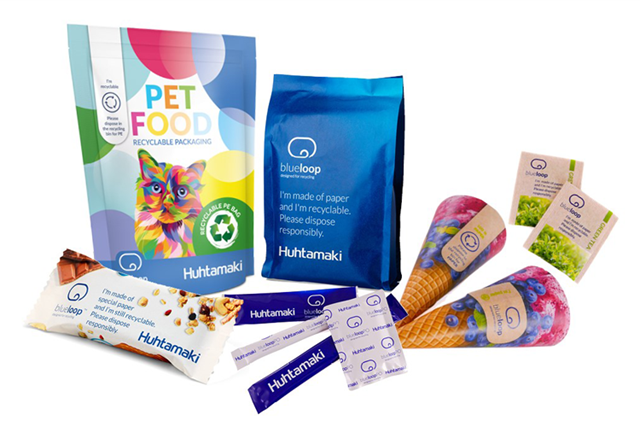 There is no question as to why flexible packaging is used so widely to protect food and everyday essentials across the world. Its lightweight nature reduces the environmental burden of transporting food and everyday essentials from producers to retailers and their consumers and its unrivalled protective properties cut food waste, lowering food chain emissions. This has helped improve product affordability and accessibility on a global scale, supporting both economic and social well-being. Yet, as is so often the case in the real world, every success brings its own challenges. In the case of flexible packaging this has been the technical and economic difficulties associated with recycling multi-layered materials.
It is this challenge, of making these materials recyclable without compromising on the hygiene and safety for which flexible packaging is renowned, that Huhtamaki's experts from across the world have been working on for the past few years. Their focus on materials science has enabled our teams to develop unique sustainable solutions in mono-material flexible packaging in three ranges - polyethylene (PE), polypropylene (PP Retort) and Paper. It is through challenging long-held assumptions combined with the application of science that we are making the previously impossible possible with game changing, sustainable flexible packaging.
Our ability to harness materials and packaging science has delivered in three key areas – it is the power of three:
Huhtamaki's innovations offer the best in-class protection and shelf life, keeping the contents safe and hygienic. They offer different barrier options for a broad range of demanding applications in food, beverages, healthcare, home and personal care, as well as for industrial applications around the world
Our innovations make mechanical recycling of flexible packaging possible in existing recovery streams. We have simplified complex structures to provide the highest percentage of mono-material in the market today. This provides recyclers with a higher yield, so improving reuse value and supporting the economics of recycling. We are using circularity to deliver value across the value chain.
Our innovations focus on the need to provide affordable and resource-efficient sustainability, to deliver transformative, sustainable innovation at a competitive price, and to achieve that for our customers to use on their existing production lines to ease the transition. By doing so we are not only supporting environmental sustainability, but economic and social sustainability, globally.
We have made ambitious investments into new production technologies in key sites to bring these solutions to global markets at scale, starting now. Only Huhtamaki is redefining the possible.
Dr. Marco Hilty
President, Flexible Packaging
blueloopTM solutions in three key technologies:
blueloopTM PE is a new solution range made up with up to 95% mono-material content, designed for recycling. Part of our blueloopTM range, OmniLock™ PE offers ultra-high barrier performance that is comparable to aluminium-based solutions.
blueloop™ PP Retort is designed for the most demanding applications where sterilization for food, pet care, and healthcare is required.
blueloop™ Paper is a fully recyclable, mono-material paper solution for flexible packaging. It provides an industry-leading 90% paper content combined with an ultra-high barrier performance that is comparable to aluminium-based solutions.