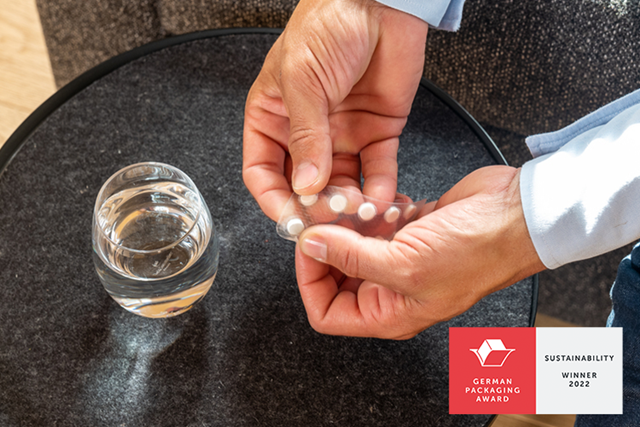 Huhtamaki wins the German Packaging Award 2022 in the sustainability category with its Push Tab® blister lid solution.
In search of a blister solution that meets both environmental requirements and customer sustainability goals, Huhtamaki and Klöckner Pentaplast teamed up to combine their specific packaging expertise into one product.
Huhtamaki Push Tab® blister lid is a mono-PET lidding film, available with push and peel opening options. Combined with Klöckner Pentaplast's kpNext™ R1 bottom film, it makes your package ready for the RIC 1 recycling stream. The advantages of this recyclable blister pack are undoubtedly its machine runability on existing production lines and with existing packaging designs, and the fact that no compromise on performance is required.
Thus, the new blister solution can be used immediately without
any additional investment. In addition, the blister offers a unique product presentation due to its outstanding optical clarity. Because it contains no aluminum, this blister solution is transparent, giving the package a great visual feature compared to conventional pharmaceutical blisters. Its barrier properties, comparable to mono-PVC solutions, additionally provide MOSH/MOAH protection for the use of recycled cardboard folding cartons.
Here, Klöckner Pentaplast and Huhtamaki have jointly developed a sustainable mono blister solution that is recyclable in the RIC 1 recycling stream. Huhtamaki and Klöckner Pentaplast work closely together to ensure proven recyclability with recycling industry experts such as PFE and HTP Cyclos. Huhtamaki is supported in this by its long-standing partner Derschlag, which has contributed significantly to this success with its special expertise in film finishing.