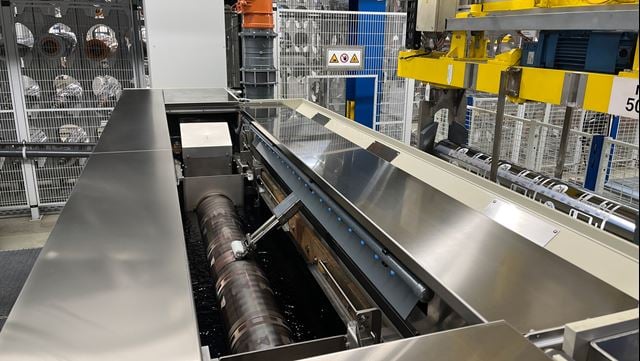 In an era marked by evolving regulations and increasing environmental drivers for change, packaging industry leaders are continuously seeking innovative solutions to meet the changing demands of the market.
Through our commitment to sustainability and cutting-edge technology, we are at the forefront of change and this time through Gravure Cylinder innovation for Flexible Packaging.  This innovation will support our customers through a seamless transition following a recent pivotal ruling by the European Court of Justice (ECJ). The decision from the ECJ invalidates the use of chromium trioxide, leading to potential disruptions in the gravure printing industry.  Huhtamaki has been at the forefront of addressing this challenge since 2016, well ahead of the EU-Regulations. Responding adeptly to this shifting landscape, Huhtamaki proudly introduces Chrome III plating—an innovative replacement for chromium trioxide.  
"Starting the project in 2016 and today having the technology already in use for customer prints at our Ronsberg facility in Germany, Huhtamaki have proactively taken steps to guarantee the continuity of service for our customers, regardless of regulatory shifts. We take pride in being the first company to implement the new technology that not only protects the environment, but also addresses occupational safety." Says Florian Ullinger, Manager Reproduction & Cylinders at Huhtamaki Ronsberg.

Leading the Way, Ensuring Stability  
With lower emissions, reduced energy consumption, and the elimination of toxic chromium trioxide, Chrome III enhances workplace safety while upholding uncompromised quality and efficiency. Huhtamaki's proactive adoption of Chrome III underlines its dedication to responsible practices and positions it as the preferred partner for delivering innovative, fit for purpose, smart and sustainable packaging solutions.  
The HelioChrome® NEO Technology behind Chrome III plating was developed by K. Walter in partnership with Huhtamaki in Ronsberg, Germany.  K. Walter's expertise in Plating and Process Technology coupled with Huhtamaki's proficiency in printing and converting forms a solid groundwork for the future of chrome plating in the overall gravure printing industry.